Who is online?
In total there is
1
user online :: 0 Registered, 0 Hidden and 1 Guest
None
Most users ever online was
16
on Thu Jul 23, 2009 7:17 am


It has come to the attention of the Second Pride Committee that voter fraud has occurred during the election. We have reasons to believe that the Second Pride (Founder), an admin account for the website, was used to cast a vote. Resulting in a member casting 2 votes. The following screen shots show 1 vote participation by the Second Pride (Founder) account before the election commenced followed by another screen shot of the Second Pride (Founder) account showing 2 vote participations after the polls closed. Zack Preminger has indicated that he is the only member with access to the Second Pride (Founder) account.
The Committee asks for a thorough explanation as to how this activity occurred in the Second Pride (Founder) account.
The Committee finds itself in an exceedingly awkward position regarding this discovery in the voting statistics and would hope that there is some explanation beyond what it seems. Nonetheless, it is apparent that apart from the issue of the tie, voter fraud has occurred somehow in the system and a re-vote is in order.
[img]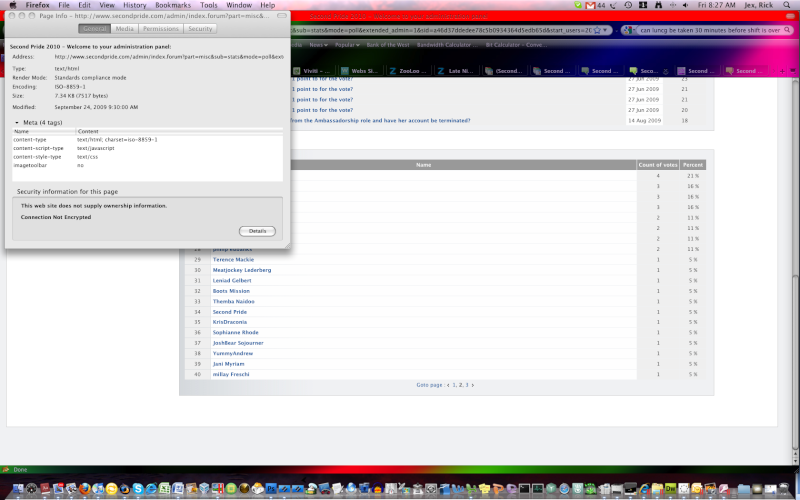 [/img]
[img]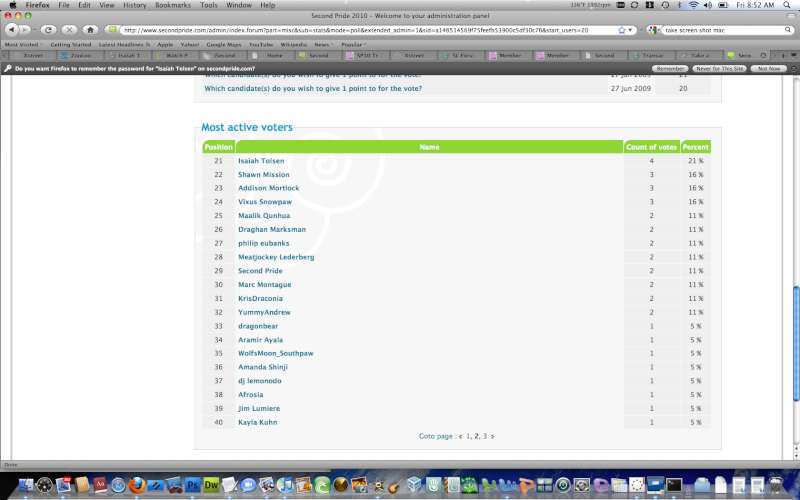 [/img]

_________________
Anden Tolsen
Secretary (Co Chair), SP 2010
andentolsen@secondpridefestival.com
www.secondpride.com

Anden Tolsen

SP10 Secretary (Co-Chair)





Thank you for bringing this to attention so late Anden I also beleive it calls for a revote... However you have missed one detail that I did communicate to the committee during the 24h vote.. And that I think you should have shared with everyone since you were aware about it for several hours now...
Apparently there has been trying to mess around with that profile and it didn't come from me... It's a dormant account that is only to be used for the deletion of the forum or domain name buying. Yes I did login to it but I also told you it was to try to see what had been done to it, also i might add this is a first time happening thing in SP history... lots of 1st this year and still very early, thank you.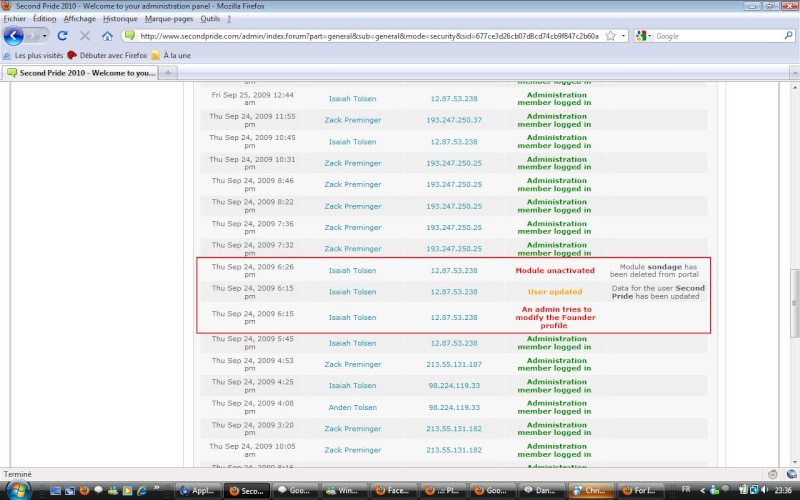 This screenshot, unlike Anden's, shows timed-stamped logs from the admin pannel actions log... They show every admin action done...
Whatever was done is unsure to say the least, I also note that the statistics do not show when the vote was cast and it could have been from a testing of the voting system long ago too since the account exists since 2008. Just a theory, other than that I beleive it doesn't change the next course of action and that nothing will be left unwatched by you and by me about what happens in the admin pannels and stats, which should make the next round secure.
However I will say I don't like the fact that you keep quiet this information I shared with you in fairplay about this intrusion log. And that when I try to see what was done by logging in you accuse me of casting a vote at the same time... I think you've got more to prove than me as to why you chose to keep it a secret from the members until you noticed that I had gotten in to check which BTW you know only because I told you I did by e-mail. It almost feels like being setup for having fallen into a nasty trap... Who's being open and honest here?

---
Permissions in this forum:
You
cannot
reply to topics in this forum